Mid-Year Market Update - Yardi
Date posted
August 13, 2020
Charlotte: Queen City Hits the Brakes
Charlotte's strength as a banking and fintech hub and its efforts to diversify its economy in the past decade have provided some shield from the effects of the COVID-19 pandemic. Recent moves into the area include Honeywell and Truist Bank. At the same time, health-care administration company Centene has selected Charlotte for the location of its new 1 million-square-foot East Coast headquarters. The firm plans to invest $1 billion in the development of a campus that will generate 6,000 new jobs.
In the past decade, the metro's low cost of living, increasing mobility, and diversifying economy have attracted and retained a young talent pool. Last year, Charlotte gained 43,224 residents. That marked a 1.7% demographic expansion, more than five times the national average.
However, as the COVID-19 outbreak's effects began to ripple through the economy, Charlotte's job growth came to an abrupt halt. The unemployment rate rose to 13.2% in May, according to preliminary data from the Bureau of Labor Statistics, the highest rate among major North Carolina markets. All sectors but financial activities and mining, logging, and construction contracted year-over-year through May.
Rent Trends
So far, though, steady fundamentals have kept Charlotte's multifamily market relatively healthy. The average rent contracted just 0.3% in the second quarter, hitting $1,193, according to Yardi Matrix data. Meanwhile, the U.S. average slid to $1,457.
Charlotte's rental rate contraction was caused by the more expensive Lifestyle segment, which recorded a 0.4% decline to $1,314, while rents in the working-class Renter-by-Necessity segment inched up 0.1% to $975. Similarly, as in many other U.S. markets since the onset of the pandemic, rents dropped the most in the metro's priciest submarkets: Uptown rates fell 2.8% year-over-year through June to $1,879, while Second Ward saw a 4.2% drop to $1,439 and Third Ward-Lakewood rents adjusted by 4.1% to $1,413.   
North Carolina's mid-March moratorium on evictions and utility cut-offs benefited renters, with housing providers offering tenants payment plan options and waiving late fees to mitigate the coronavirus-induced loss of income. In addition, the city of Charlotte and the Charlotte-Mecklenburg Housing Partnership provided homeowners and property managers with mortgage relief through the Emergency Rent Assistance Program. Individuals and families experiencing financial difficulties in paying rent due to COVID-19 were also able to apply for help.
Nonetheless, considering the current economic climate, Yardi Matrix expects Charlotte rents to contract 3.4% this year.
Supply
With high demand and healthy absorption prior to the health crisis, new units continue to be added. According to Yardi Matrix data, developers brought online 2,313 units across nine properties during the first half of the year, , adding 1.4% to total stock, 40 basis points above the U.S. average. Mirroring a nationwide trend, the vast majority of projects that were recently completed or are underway cater to the Lifestyle segment.
Another 14,249 units were under construction as of June, of which 9,245 were initially scheduled for delivery in 2020. Despite construction being deemed essential during the lockdown, some projects have faced delays due to social distancing guidelines and supply chain disruptions.
Half of the current construction pipeline is clustered in just five submarkets: Southwest Charlotte (with 1,629 units underway), Colonial Village-Montclaire (1,432 units), Uptown (1,213 units), Lancaster County (1,161 units) and Hidden Valley - Oak Forest (1,155 units). The largest delivery of the first six months of 2020 was Bradham at New Bern, a 432-unit property by Lennar Multifamily Communities.
Transactions
Transaction activity dampened significantly after the pandemic hit the U.S., with deals totaling only $464 million in the first half of 2020, according to Yardi Matrix. That compares to a cycle peak of $3.1 billion in multifamily assets traded across the metro. With 17 of the 26 properties that traded being in the Renter-by-Necessity segment, the price per unit clocked in at $131,794, below the $163,799 U.S. average.
Three urban core submarkets—Foxcroft, Colonial Village-Montclaire, and Uptown—accounted for a quarter of the $2.3 billion total transaction volume in Charlotte in the 12 months ending in June.  
Stay-at-home orders disrupted real estate transactions, and in-person showings were only possible at vacant properties in Mecklenburg County. The slowdown in transactions is likely to continue, as North Carolina Gov. Roy Cooper has postponed entering the third phase of reopening, initially scheduled for mid-July.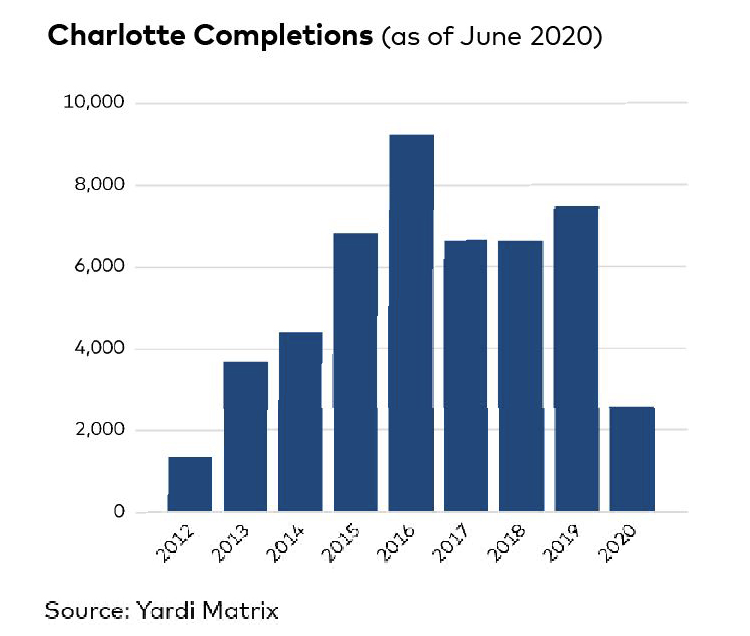 Stay current on market trends and forecasts with our free national and metro reports. Click here to subscribe now to have our latest reports delivered directly to your inbox.