Member Benefits
Life is good as a GCAA Member!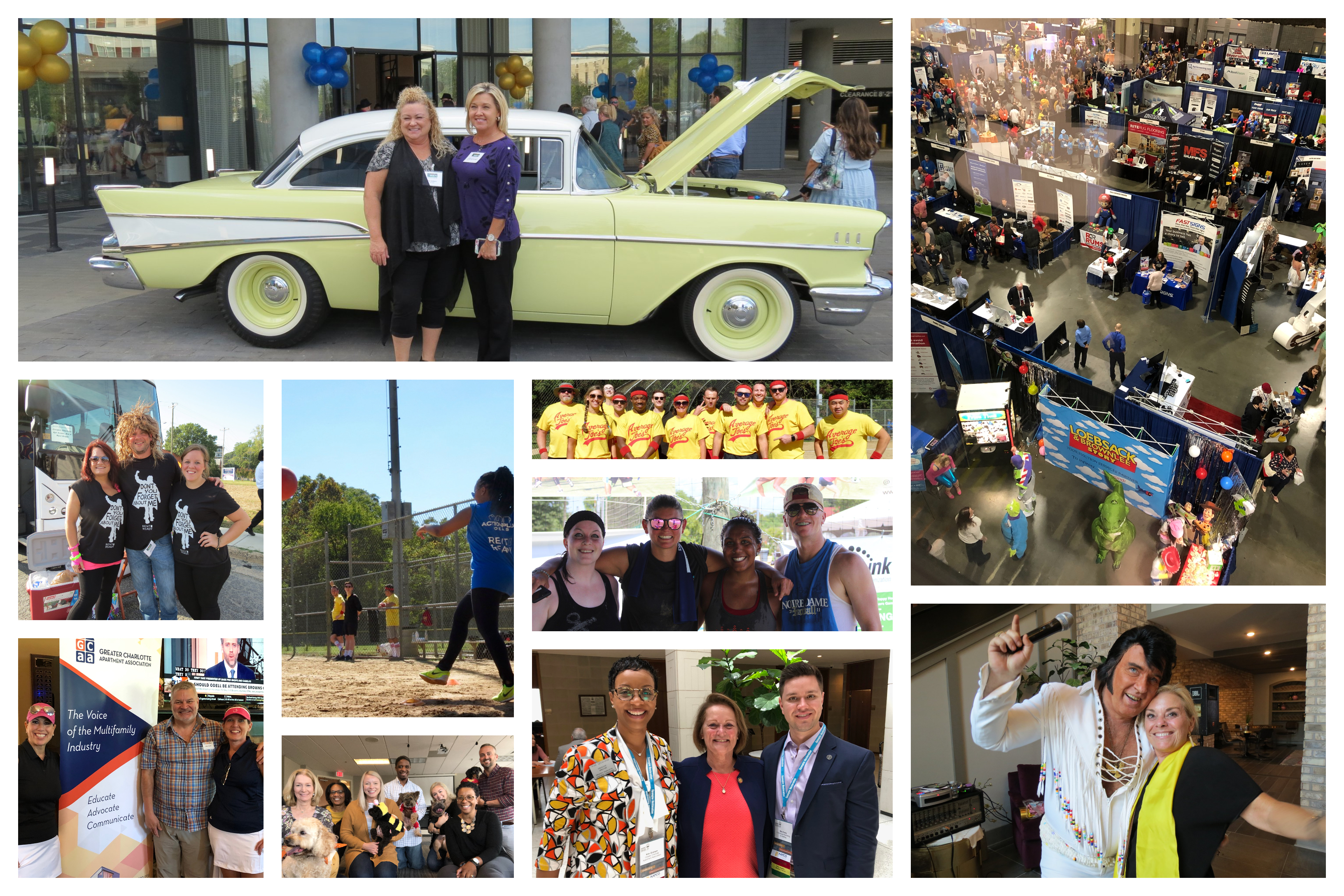 The Greater Charlotte Apartment Association (GCAA) is an industry trade association whose members develop, own, manage, and provide products and services to apartment communities in the greater Charlotte, NC area.
Founded in 1977, the GCAA now boasts a membership of more than 165,000 rental homes in 800+ apartment communities throughout the region. Over 90% of all area apartment properties belong to the Association. With its members providing homes for over 300,000 Charlotte metro area residents, the GCAA plays a vital role in the local housing industry.
Because of its constant legislative efforts and ongoing educational & informational program offerings, the GCAA is known as "The voice of the multifamily housing industry." The Association's legislative successes have saved the apartment industry literally millions of dollars over the years. GCAA educational offerings, which include NAAEI designation programs, further contribute to member companies' success by increasing the professionalism and awareness of their employees.
Additionally, the GCAA has over 200 Supplier Member firms who have developed business partnerships with multifamily housing decision-makers. Associate membership in the GCAA provides numerous avenues for business growth to a variety of companies that serve the apartment industry.
View the membership benefits for Apartment Owner/Operators and Supplier below
---
Benefits for Apartment Owner/Operators
NAA's Gold Standard Lease

Your membership in the GCAA includes an umbrella membership in the National Apartment Association. This affiliation allows Owner/Operators to access NAA's Click & Lease Program. For more information click here,

Apartment Times Magazine

Our magazine, Apartment Times, is published bi-monthly and mailed to the entire membership, to other apartment associations, and to local and state elected officials. Articles address industry-relevant topics as diverse as legislative issues, educational opportunities, marketing strategies, economic perspectives, fair housing issues, landlord/tenant law, NAA, AANC news, GCAA Committee updates, maintenance issues, survey results, market statistics, property profiles, and more. The Association's Executive Director and President are regular contributors, and members are welcome to submit informational articles for publication. The magazine also includes a calendar of events and photo highlights of recent events. Advertising opportunities are available to GCAA members exclusively. Current issue here

Professional Credential Programs

GCAA is the exclusive local provider of the following National Apartment Association Education Institute credential programs:



CALP (Certified Apartment Leasing Professional)
CAM (Certified Apartment Manager)
CAPS (Certified Apartment Portfolio Supervisor)
CAMT (Certificate for Apartment Maintenance Technicians)
CAS (Certified Apartment Supplier)

Education & Training

GCAA sponsors its own educational programs in the form of classes and seminars. Recent programs have included: Pool/Spa Operator Certification, Leasing Essentials, Fair Housing, Landlord/Tenant Law, Leasing/Marketing Strategies, Crime Deterrence, Bed Bug Issues, Maintenance Training (including Plumbing, Electrical, and HVAC topics), and Leadership Training. Click here for current seminar details.


Full-Time Staff

The Greater Charlotte Apartment Association staff includes six tenured professionals who are eager to assist you with your operational endeavors and to provide you with all of the benefits of association membership. Full staff profiles here


Legal Forms and Publications

The GCAA Membership gives you access to invaluable data and research including the semi-annual Charlotte Apartment report and the biannual Salary Survey are available to members, as are some distinctive marketing and collateral printed materials. (next available date June 2022) Forms/Publications details here.


Legal Handbook

The legal handbook is no longer available due to The North Carolina lease merging with the North Carolina Apartment Association Lease in July 2020.

Legislative Advocacy

The GCAA takes an active role in both state and local government activities. As the watchdog for the multifamily industry, the Association monitors land use planning, building & housing codes, utility rules, and public services. Current legislative efforts here


General Membership Meetings

General Membership Meetings are scheduled approximately eight times annually, normally in the form of an evening dinner meeting. The entire GCAA membership base is invited and encouraged to attend. Educational, informative, and entertaining programs at these meetings enable attendees to interact with other industry professionals. Each monthly meeting is an ideal opportunity for networking, prospecting, and showing support for the Association.

Media Relations Program

The GCAA staff works to update the local media and public officials on activities & developments in the Charlotte multifamily housing industry. These efforts also serve to improve public opinion of the industry, which continues to grow, change, and react to political and economic conditions in the region. GCAA representatives are available to convey the Association's views on current issues, whether to various media or other interested groups.

Trade Show

This event is the highlight of the GCAA year, drawing over 1500 attendees annually. Associate members exhibit their products and services in a festive atmosphere, giving all the attendees, from on-site to owner/manager industry professionals, a unique opportunity to review all that GCAA member vendors have to offer. The GCAA Trade Show is traditionally held in March at the Charlotte Convention Center. Scroll through our Signature Events.

Website

Relevant in content and accessible in design, the GCAA website offers members 24-hour accessibility to Association news, class & program schedules, industry information, current and archived editions of the Apartment Times magazine, and member contact details. At www.greatercaa.org, members can register for GCAA events and programs, access the Membership Directory, order leases, forms, find industry news, pay invoices, renew their memberships, and update their contact information.

Social Media

GCAA maintains pages on Facebook, Twitter, and Instagram so members can keep up with association news, programs, announcements, and fun while you're on the go.

The Charlotte Apartment Index

Published twice per year by GCAA member Real Data, this survey of vacancies, rents, amenities, and relative market conditions is the best source for an accurate and current view of the Charlotte apartment market. The report is available in a variety of electronic formats. GCAA members receive a discounted rate for these products
---
Benefits for Suppliers
Joining the Greater Charlotte Apartment Association is a wise decision for firms that supply products and services to the apartment industry. The benefits of GCAA membership can be maximized if you understand all that the association has to offer. The following are exclusive benefits of Supplier membership in the GCAA:


Prospecting and Networking

GCAA's General Membership Meetings and other major events: your chance to meet and mingle with between 150 and 500 industry professionals each month.

Membership Directory

The online directory lists all owners, management companies, properties, and supplier members. All suppliers are also listed in this directory's separate downloadable suppliers directory by the particular service that they provide. The online Membership Directory is available to each GCAA member as well as to every member's property. (The online Directory is updated quarterly.)

Trade Show Exhibitor Opportunities

Display your product/service at this significant GCAA annual event; it's a cost-effective means of contacting over 1500 apartment professionals in a single evening. Traditionally held in March, this event is always one of the highlights of the GCAA calendar year. Check out GCAA's Signature Events

Exposure on the GCAA website

The GCAA's phenomenal website includes an online Member Directory and Buyers' Guide with direct links to listed members' sites, prominent placement of GCAA's Platinum Sponsor listing with links to these Supplier members' own websites, and industry links to the NAA, the NMHC, the AANC, NC Fair Housing Institute, ULI, NC Building Code, and more.

Advertising and Sponsorship Opportunities

In GCAA publications, including the quarterly Apartment Times digital magazine, the annual GCAA Membership Directory and Buyers' Guide, the annual New Construction Tour Booklet, and more. Specific details and pricing are available here.

Suppliers Council

This council, comprised exclusively of GCAA Supplier members, provides opportunities for vendors to meet and build business relationships with apartment Owner/Operators. Through panel discussions, social events, seminars, etc. the SC's working subcommittees provide some of the best benefits of Supplier membership.