GCAA Education Foundation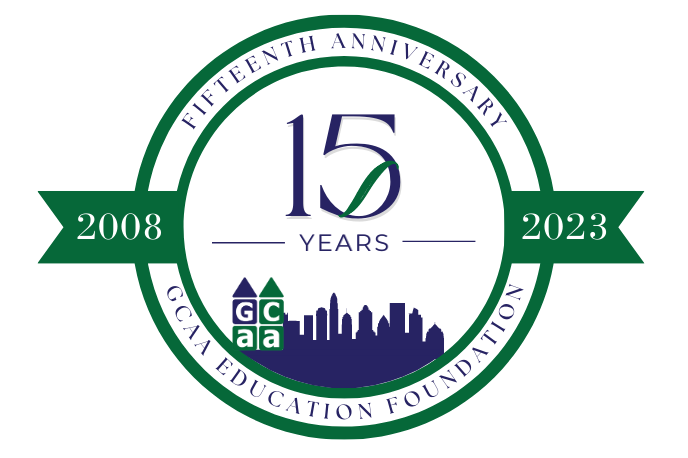 The Greater Charlotte Apartment Association Education Foundation was incorporated in 2008 as a 501(c)(3) non-profit organization.
Purpose:
The purpose of the Greater Charlotte Apartment Association Education Foundation (GCAAEF) is to support the education of rental housing employees through educational course development (Fair Housing, Landlord Tenant and Real Estate Law, Maintenance and Repair, Sales and Marketing, Liability, Risk Management, Financial Responsibilities, Human Resources Management, Safety, Security, and General Management practices), technology and furnishing upgrades to the Education Center, and designation scholarships.
---
Fund and develop educational materials and programs for the multifamily rental housing industry to ensure that its members are skilled and knowledgeable.
Fund faculty training and provide financial support for instructors who provide professional training to the multifamily rental housing industry.
Create and sustain a student scholarship fund that will provide financial assistance to rental housing employees in order for them to pursue national certification programs.
Provide technology and furnishing upgrades to the GCAA Education Center to ensure a state-of-the-art education experience in a comfortable atmosphere that's conducive to learning.
Click Here to Make a Tax-Deductible Donation to the Education Foundation

---
Fundraising:
In 2017, the Education Foundation raised a total of $5,639 from the Outreach Committee's Bowling Tournament, and the 2017 Golf Tournament's silent auction. These funds provided four scholarships for NALP, CAMT, CAM, and CAPS students in addition to scholarships for CPCC students enrolling in the new Apartment Maintenance Certificate Program.
In 2014, the Foundation held a SILENT AUCTION to raise funds for the APT Scholarship Program. This effort raised $3,410 for NAAEI Designation Program scholarships.
In 2013, the Foundation awarded FOUR full scholarships for GCAA members to pursue NAA Designations in 2014 (one each for the CAM, CAPS, CAMT, and CALP programs). The total value of these scholarships was over $3,100.
In 2012, the first APT Scholarships for NAAEI Designation Programs were awarded to GCAA-member apartment professionals.
In mid-2011, in conjunction with the association's office move, the GCAAEF actively raised funds to furnish a new, state-of-the-art Education and Training Center which seats over 40 attendees.
GCAA's Education Advisory Council published Cooking With Colleagues: An Apartment Management Guide to Making Something Out Of Nothing! in 2009. This book is a compilation of expert advice from leaders and trainers within our industry. Proceeds from sales have gone to the Education Foundation.
The GCAA Board of Directors agreed to donate 25% of all designation program (CALP, CAM, CAS, CAPS & CAMT) net proceeds to the foundation beginning in 2009.
For additional information about the GCAA Education Foundation, email Member Services at membersvcs@greatercaa.org.
---
GCAA Education Foundation Board of Directors
Officers:
Chair - Kelly Thomas, Profitt-Dixon
Vice Chair - Deidre Quick, Blue Ridge Companies
Treasurer - Shane Raby, Middleburg Communities
Secretary - Liz Newkirk, Loebsack & Brownlee
Immediate Past Chair - Jonathan Tee, Paragon Services Group
Directors:
Ellie Norton, Pegasus Residential
Ed Shaffer, HHHunt
John Scott Trotter, SilverCap Partners
Leah Vinansky, ChargePoint
Mary Beth Woodard, Highmark Residential
Kim Graham, GCAA Executive Director (Ex-officio)
Norm Praet, Brownlee, Whitlow & Praet, PLLC (General Counsel/Ex-officio)