Smoke Free Certification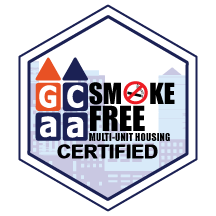 The GCAA, along with our partners are thrilled to introduce the Smoke-Free Certification program to those communities that have taken the environmentally friendly initiative to go smoke-free!
Benefits of the Certification include, but are not limited to:
Attract New Residents – Smoke-Free is in Demand
In a survey conducted in 2015 by the National Multifamily Housing Council of nearly 120,000 residents in the US, they found that 76% of residents across all generation levels are interested in non-smoking buildings as an amenity. Smoke-free status is something that residents of all ages want and support! When people are seeking information about places to live, they want to be able to compare one community to another. The checklist of things important to them to consider is likely to include a non-smoking community.
Project a Healthy, Green Image
A smoke-free certification indicates a better living environment for residents and pets and provides another opportunity to distinguish your property from others. Wellness-minded design is growing in popularity as younger generations are pushing for healthier environments in their workplaces and homes. Many property owners are adopting the U.S. Green Building Council's LEED (Leadership in Energy & Environmental Design) certification system and smoke-free fits within the LEED design. In addition, the NC Housing Finance Agency updated the guidelines in its 2015 Qualified Allocation Plan to require affordable housing properties to be smoke-free to qualify for low-income housing tax credits.
A Smart Business Decision with Benefits
Adopting a smoke-free policy is good for your bottom line. Many property owners and managers in NC have gone smoke-free to save in costs. The sooner you go smoke-free, the sooner you can save money in decreased maintenance, turnover, and fire damage costs. Providing a clean and healthy environment for residents can be a big selling point for your property and those with a smoke-free policy may see an increase in resident demand.
With Smoke-Free Certification from GCAA, your property will be highlighted not only on the GCAA website, but also by GCAA's community partners.
---
To apply for the GCAA Smoke-Free Certification, a community must have a lease or contract that prohibits employees, residents and guests from smoking in specified areas in the community. The minimum requirement for the certification is a policy that prohibits smoking indoors, on porches, balconies or patios where applicable. (More broad policies are legal and recommended. They may include other outdoor private and common areas, building perimeter restrictions, 100% smoke-free campus and prohibition of electronic cigarettes and/or hookah.)
If you are interested in the Certification but are not yet smoke-free, assistance is available through the GCAA and community partners (local public health). They can help you with the process of converting apartment communities to smoke-free and answer any questions you may have. Please email Carleen Crawford for more information on going smoke-free. 
The completed application can be emailed to Monika McLean, Marketing & Communications Manager, at monika@greatercaa.org. 
---
Thank you to our parnters!
Additional resources:

For more Information please contact:
Carleen Crawford
Regional Tobacco Control Manager
Office of Policy and Prevention|Mecklenburg County Public Health
249 Billingsley Road|Charlotte, NC  28211
980-314-9142 office
704-249-5889 mobile*