AANC PAC – Your Involvement is Crucial Now More Than Ever
Date posted
April 24, 2018
Will you support your industry today?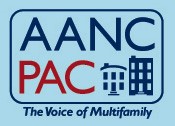 Building and maintaining relationships with elected officials, implementing sound legislative strategies, and contributing to your PAC are all key components to successful advocacy for any industry. These components work in tandem, creating a legislative environment that allows an industry to grow and thrive.
As campaigns grow increasingly more expensive and our legislative efforts become more complex, the North Carolina multi-family industry must further solidify its role as a leader in shaping sound legislative policy. Our industry has no choice but to strategically place ourselves amongst the upper sphere of influence. We must remain ever present in the electoral process, public policy, and mindful of every legislative need that may help or hurt the interests of our industry and its residents.
Whether we like it or not, money plays a significant role in politics. As such, it is important for the multi-family industry to play a key role in campaigns and public policy to ensure candidates standing for the issues important to us are elected to public office. Your PAC contributions play a vital role in a candidate's ability to win elections and every dollar, no matter how large or small, counts.
With election primaries looming and a host of issue important to us on the table will your voice be heard? Will you support your industry today?
Jonathan Tee
Chairman
AANC PAC Board of Trustee
Please contribute online today at: https://northcarolinaapartmentncassoc.wliinc32.com/external/wcpages/aanc-pac/pac-form.aspx