Some things to know about the RNC in Charlotte Next Week
Date posted
August 20, 2020
Some things to know about the RNC in Charlotte Next Week
The official business of the 2020 Republican National Convention, including the formal nomination of President Donald J. Trump, will be held in Charlotte, North Carolina on August 24, 2020.
The Republican National Committee also will be in town this weekend, holding private meetings starting Friday at the Westin.
The formal nominations of President Trump and Vice President Pence will take place in the Richardson Ballroom at the Charlotte Convention Center on Monday from 9 a.m. to 1 p.m.
A total of 336 delegates, six from each state and territory, will gather. After the nominations, the official business should be over by mid-afternoon, after which delegates will leave town.
With regards to traffic
Streets immediately around the convention center — South College, East Stonewall, Brevard and MLK — will be closed from 6 p.m. Sunday to about 6 a.m. Tuesday. That includes the southbound I-277 exit ramp onto South College St.
No parking will be allowed on the closed streets. Local traffic will have to go through vehicle checkpoints.
Individuals who want to visit the Whole Foods on Stonewall Street as well as the apartments above will have to access the parking garage from South Boulevard or on foot.
Light rail will be closed from the Carson Street station to 7th Street station from 5:15 a.m. Sunday to 5:15 a.m. Tuesday.\
Most uptown businesses will remain open.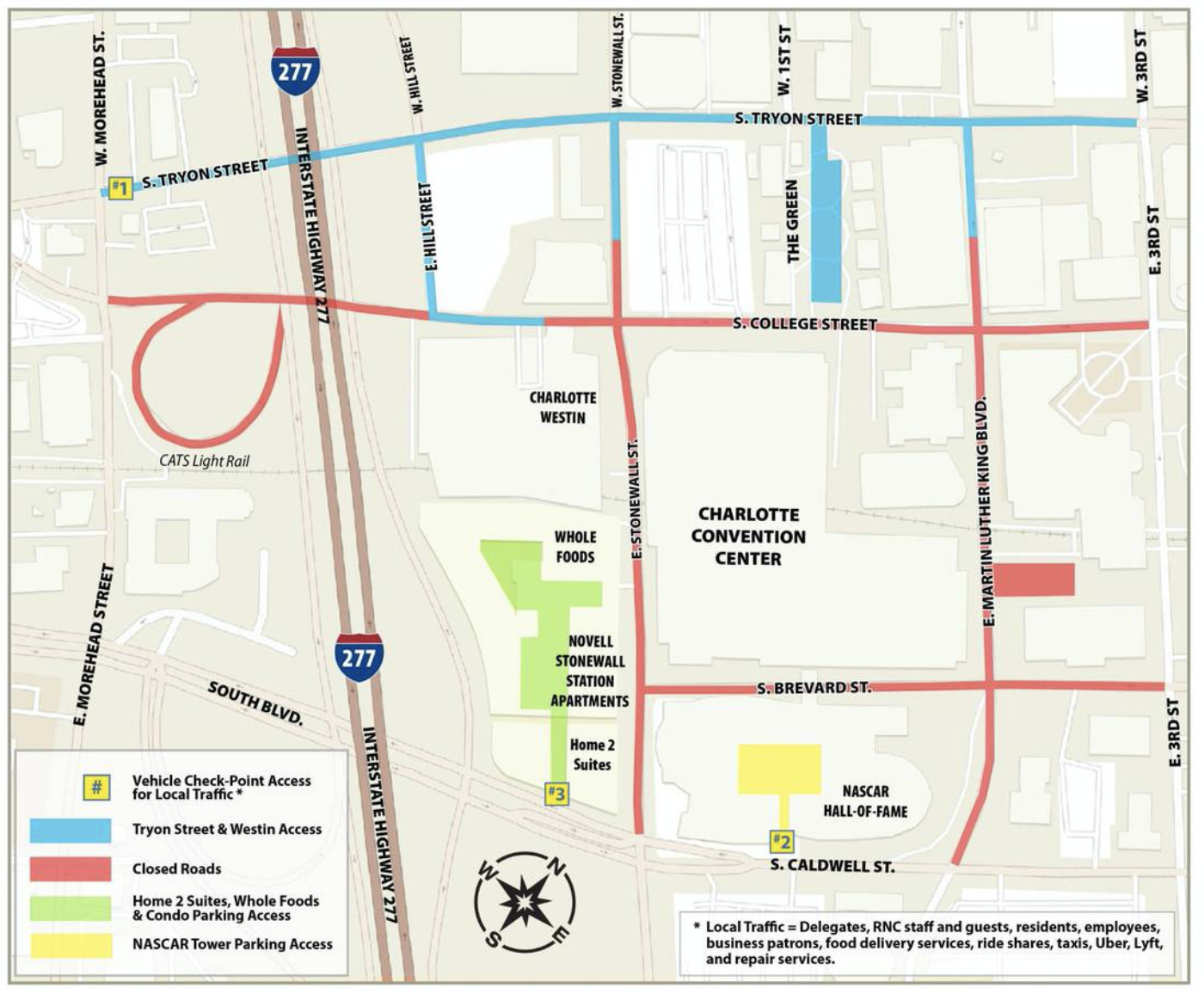 For more information about the RNC, visit the 2020 RNC website.