Back to Events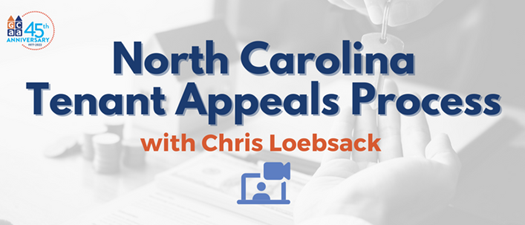 Webinar: The North Carolina Tenant Appeals Process From Start to Finish
Tuesday, November 8, 2022
* Registration open until 11/7/22 at 1:00 PM ()
Event Details
Are you a member of the GCAA or another NC apartment association affiliate? If so, you can attend this webinar for FREE! Click the REGISTER NOW button for further instructions.
Webinar Details
There has been a significant increase in eviction appeals throughout North Carolina, and you want to know more about how to handle them. Are you new to navigating resident appeals or just need a refresher course? This webinar is for you!
Participants will learn
Who is allowed to file an appeal from an eviction judgment.

What happens next once they appeal? And what if they don't pay their rent bond?

When are the residents required to appeal? And when do we get the money they paid to the court?

How does the appeals process work, exactly? And how long does it take until we get the write?

Why is the resident allowed to appeal at all? And why do they get to "buy more time"?
About the Speaker:
Chris Loebsack

Managing Principal, Loebsack & Brownlee

Chris is the founder and Managing Partner of the law firm Loebsack and Brownlee, PLLC. In June of 2019, he also became a Council Attorney with Brownlee, Whitlow & Praet, LLC. Chris is a 1996 graduate of Duke University School of Law (J.D.) and a 1993 graduate of Clemson University (B.S.). He spent the first 22 years after law school with the law firm Caudle and Spears, P.A.,
He has been a resident of Gastonia and Charlotte since graduating law school in 1996. He has two sons, Joseph and Thomas.
Chris' legal practice focuses primarily on representing national Multifamily & Single Family Operator property management firms. Chris is also a Certified Mediator who regularly mediates Business and Construction Litigation cases for other attorneys.