Back to Events
2023 Train the Trainer
Tuesday, February 7, 2023
at
9:00 AM (EST)
to Thursday, February 23, 2023 at 2:00 PM (EST)
* Registration open until 2/5/23 at 12:00 AM ()
Event Details
2023 Train the Trainer
The GCAA's Train the Trainer program is an exclusive workshop for current or prospective instructors or for those who would like to learn great techniques to train their staff and becoming an instructor with the GCAA.
This is also a great opportunity for Corporate Trainers or Directors of Training!
Topics include:
Structuring content for maximum learning
Methods & Techniques
Managing Nervousness
Movement Animation & Pace
Critiquing & Evaluating
Facilitating Activities
Computer Slides & Other Resources
Understanding & Using Questions, Ethics & The Next Step.
This course provides resources and instruction from your fellow peers, who currently provide instruction for the GCAA. Upon successful completion of the course, this path will lead to opportunities for teaching with the GCAA. Those who complete the program will receive continuing education credits (CECs) and certification upon successful completion.
Students are expected to be ready with pens/pencils and paper to take notes. As this is an interactive course, please also be prepared for daily homework and individual presentation assignments. You will be expected to utilize the skills and information learned during the class modules, then present to the class throughout the workshop.
This workshop is an exclusive invite-only this year, however we've elected to open a few remaining slots open to our membership!
Instructors Include:
Dana Flaherty
Shane Raby
Kate Jarrell
Ellie Norton
Gabrielle Bouknight
Tami Fossum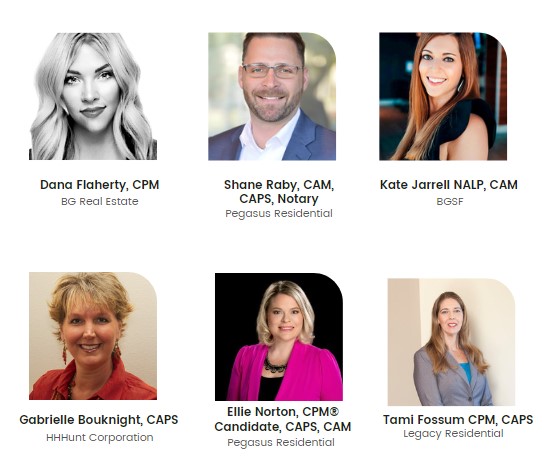 For More Information:
Shelby Hughes
Education & Training Manager
Greater Charlotte Apartment Association
(704)334-9511x104
Class Schedule: (All dates must be attended)
Location: 3701 Arco Corporate Drive, Suite 105, Charlotte, North Carolina, 28273
9:00 AM - 2:00 PM
Tuesday, February 7, 2023
9:00 AM - 2:00 PM
Thursday, February 9, 2023
9:00 AM - 2:00 PM
Tuesday, February 14, 2023
9:00 AM - 2:00 PM
Wednesday, February 15, 2023
9:00 AM - 2:00 PM
Tuesday, February 21, 2023
9:00 AM - 2:00 PM
Thursday, February 23, 2023
Pricing:
Member Cost: $99 (non-refundable)
Limited Spots Remain