Back to Events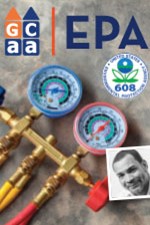 EPA Section 608 Certification: Two Day Class
Thursday, September 12, 2019
at
9:00 AM (EDT)
to Friday, September 13, 2019 at 5:00 PM (EDT)
* Registration open until 9/8/19 at 12:00 PM ()
Event Details
This class consists of comprehensive lessons that cover essential HVAC/R theory, typical HVAC systems and components used in multi-family, residential and commercial buildings, as well as standard procedures for installing, troubleshooting and maintaining HVAC/R installations and commercial refrigeration.
This is learning for the real world! The training is bundled into a fun, interactive 2 day in depth course. Instructor, Donovan DaCosta, "DEE" started his career in the apartment industry over 2 ½ decades ago as a
groundskeeper. He worked his way up to where he is today by being eager to learn, compassionate and maintaining a let's get it done attitude.

A successful career in this field requires not only a license but skills learned by textbook study, actual hands-on training and continued education on the various changes that occur within the industry.

You Will:
* Get hands HVAC training
* Become fluent in R-410A
* Become EPA Certified. See test classifications below.
Type 1 A Type I technician primarily works on small appliances such as domestic refrigerators, window air conditioners, PTACs and vending machines.
Type 2 A Type II technician primarily works on equipment using a high pressure refrigerant such as HCFC-22. The equipment includes residential air conditioners and heat pumps, supermarket refrigeration and process refrigeration.
Type 3 A Type III technician primarily works on equipment using a low pressure refrigerant such as HCFC-123 or CFC-11. The units are primarily chillers.
Universal Any Candidate passing all three EPA types is certified as UNIVERSAL

All tools and equipment required in order to have a hands-on learning experience will be provided
The exam will be administered directly following day 2 of the class.
* Study Guides (English and Spanish version) will be available one week prior to class upon request.
Study guides are required on day 1 and day 2 of class. Testing takes place after the review session on day two.
There will be a fee of $25 for replacement study guides.