<< Back to main Education page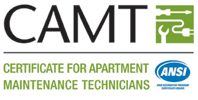 The Certificate for Apartment Maintenance Technicians (CAMT) course is designed as an introduction for new maintenance technicians, or as a refresher for the veteran employee, to give these professionals the knowledge and tools necessary to run an effective maintenance program and pave a career path towards success. CAMT is the only apartment maintenance program approved by ANSI (American National Standards Institute) as an accredited certificate program, which means it has met the highest professional standards of curriculum development and administration within the ISO/IEC 17011 guidelines.
Take this course if you are motivated to increase your technical, business, and personal development skills while immediately improving on-the-job performance. When you successfully complete the course and meet the designation requirements, you'll earn the nationally recognized CAMT Certificate!
CAMT Training has both classroom and online components. Some of the in-class sessions will be held at a facility with hands-on demonstration/practice opportunities.
---
AREAS OF STUDY INCLUDE:
Interior/Exterior Maintenance
Electrical Maintenance
HVAC Maintenance
Appliance Maintenance
Plumbing Maintenance
To enroll, please complete and return this official NAAEI Registration Form.
CAMT WILL BE OFFERED ONLY ONCE IN 2019
Spring, 2019
CAMT (Traditional Schedule)*
Spring Dates/Times:

Electrical **GCAA Career Development Center (CDC)**

March 5th, 8th & 12th

HVAC **GCAA Career Development Center (CDC)**

March 19th

HVAC & Interior/Exterior **GCAA Career Development Center (CDC)**

March 22nd

Appliance Repair **GCAA Career Development Center (CDC)**

April 2nd

Plumbing **Roto Rooter (1700 Orr Industrial Court)**

April 16th, 18th & 23rd

*Electrical, HVAC, Appliance Repair and Plumbing classes can be taken as an individual class. The cost is $189.
Place:

GCAA Career Development Center (CDC)

Roto Rooter

6060 Piedmont Row Drive South, Suite 575, Charlotte NC 28287

1700 Orr Industrial Court, Charlotte, NC 28213

Cost:
$945* for GCAA Members
$1229 for Non-Members
*GCAA Members may take advantage of the Easy Pay Installment Plan, which breaks your tuition for CAMT into 4 payments. Please email Daniel Sircy for additional details.
High School Student & Veteran Discount: GCAA offers 15% off to high school, college students and Veterans. Contact Daniel Sircy for details.

Learn how credentials benefit your company

on this page.
"If someone is on the fence about getting their CAMT, think about this scenario: A two-ton heat pump runs about $850. If a technician knows how to troubleshoot a compressor correctly (which they teach in CAMT), then they just saved the cost of the entire CAMT program itself by knowing what to look for."
- Ray McKeand, CAMT, CAPS