CAMT: Certificate for Apartment Maintenance Technicians
C<< Back to main Education page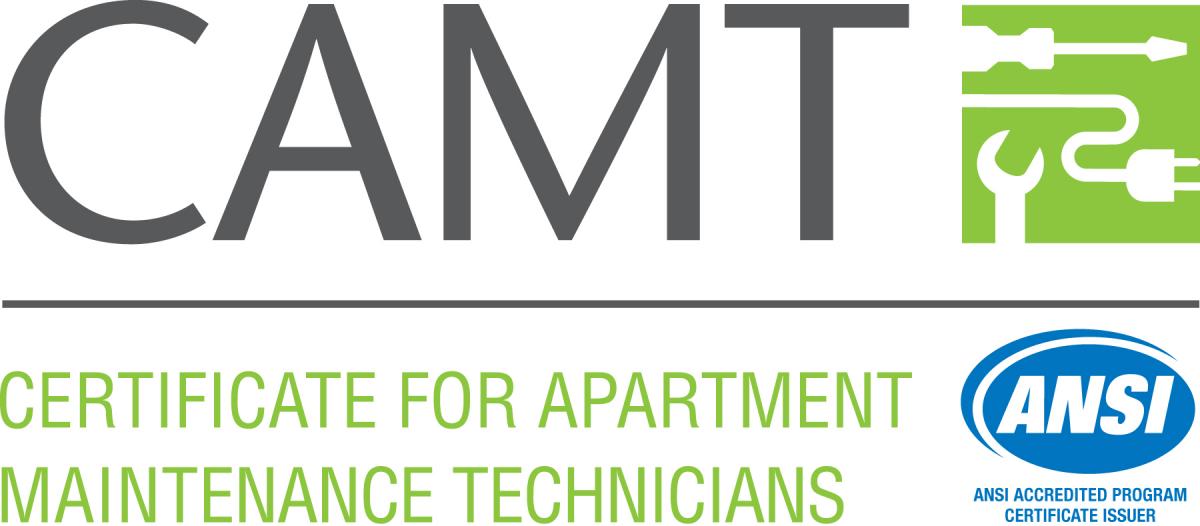 Invest in your career and grow within your industry!
The Certificate for Apartment Maintenance Technicians (CAMT) course is designed as an introduction for new maintenance technicians, or as a refresher for the veteran employee, to give these professionals the knowledge and tools necessary to run an effective maintenance program and pave a career path towards success. CAMT is the only apartment maintenance program approved by ANSI (American National Standards Institute) as an accredited certificate program, which means it has met the highest professional standards of curriculum development and administration within the ISO/IEC 17011 guidelines.Take this course if you are motivated to increase your technical, business, and personal development skills while immediately improving on-the-job performance. When you successfully complete the course and meet the designation requirements, you'll earn the nationally recognized CAMT Certificate!CAMT Training has both classroom and online components. Some of the in-class sessions will be held at a facility with hands-on demonstration/practice opportunities.
ABOUT THE CAMT COURSECAMT COURSE FLYERABOUT THE CAMT EXAM
CAMT CANDIDATE HANDBOOKCLAIM YOUR DIGITAL BADGE
HOW CREDENTIALS BENEFIT YOUR COMPANY
---
CLICK HERE TO DOWNLOAD THE REGISTRATION FORM
---
Curriculum Includes:
Interior/Exterior Maintenance
Electrical Maintenance
HVAC Maintenance
Appliance Maintenance
Plumbing Maintenance
---
Requirements:
To obtain the CAMT credential, candidates must complete the following:
Minimum of 12 months of

 

apartment

 

or rental housing maintenance experience. (This can be obtained while taking the course, you will receive a provisional certificate until this requirement is met.)
Successful completion of all CAMT coursework (totaling 80 hours)
All class dates below must be attended.
Meet all examination standards within 6 months of declaring candidacy
---
Don't wait another minute! Take this valuable step toward your future today. We guarantee you'll see your role in this industry in a whole new way and feel more certain about your personal contribution than ever before!
Dates: 

January 5 & 6 - Electrical

January 12 & 13 - HVAC Cooling 

January 19  - HVAC Heating

January 20 - Interior/Exterior Maintenance

January 26 & 27 - Appliances

February 2 & 3 - Plumbing

Time:
Location: 

*GCAA Career Development Center (CDC) 

  6060 Piedmont Row Drive South, Suite 575, Charlotte NC 28287

Cost:

$599* for GCAA Members 

$799 for Non-Members

Payment Policy:

*Tuition must be paid in full 2 weeks prior to the class start date. 

GCAA Members may take advantage of the Easy Pay Installment Plan, which breaks your tuition for CAMT into 4 payments. Please email Lonnie Harris for additional details.

High School Student & Veteran Discount: GCAA offers 15% off to high school, college students and Veterans. 

Cancellation Policy: 

No-shows will be responsible for full tuition.
Late registrants (up to 3 days prior to class) will incur a $50 fee for rush shipping of course materials.

Registration and/or cancellation in writing only to membersvcs@greatercaa.org at least 14 days prior to initial scheduled class. 

Registration Deadline

December 23, 2021
---
Learn how credentials benefit your company

 

on this page.
"If someone is on the fence about getting their CAMT, think about this scenario: A two-ton heat pump runs about $850. If a technician knows how to troubleshoot a compressor correctly (which they teach in CAMT), then they just saved the cost of the entire CAMT program itself by knowing what to look for."
- Ray McKeand, CAMT, CAPS

---

NOTE:

The format of all NAAEI credential exams has changed. All NAAEI exams are now proctored. This new policy means that credential candidates must take their exams either onsite at a SEFAA testing facility with a trained and qualified affiliate proctor, or on their own computers via live online proctoring (LOP).

In addition, both the CAM and CAPS programs now feature a one-part exam. Because of this change, all current CAM and CAPS candidates who need to take or retake their exams have been issued a new exam eligibility code to direct them to the new version of the exam. Any previously generated CAM or CAPS code will no longer work to schedule an exam. Please contact SEFAA to receive new codes for CAM and CAPS exams. The new exam codes will be linked on the dashboard to the CAM Comprehensive Exam or the CAPS Comprehensive Exam.

The eligibility codes for the NALP, CAMT, CAS, and IROP exams have not changed; however, candidates for these credentials must now log onto the Castle scheduling site to schedule their exams.

Advance notice is not required to schedule exams being taken via LOP.  Candidates who are rescheduling their canceled or failed exams will follow the same scheduling instructions. Retake and reschedule fees have increased, they are as follows:

Fees to retake a failed exam are as follows:

CAM and CAPS -- $100

CAS, IROP -- $60

CAMT -- $55

CALP -- $50

Micro-credentials -- $50

These fees will be charged to the candidate upon login to the scheduling site. The seven-day waiting period between exam retakes remains in effect.