Back to Events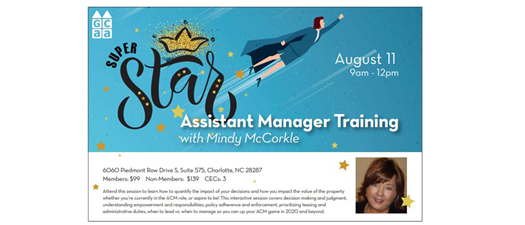 Superstar Assistant Manager Training with Mindy McCorkle
Wednesday, August 11, 2021
Event Details
Superstar Assistant Manager Training with Mindy McCorkle
Attend this session to learn how to quantify the impact of your decisions and how you impact the value of the property whether you're currently in the ACM role, or aspire to be! This interactive session covers decision making and judgment, understanding empowerment and responsibilities, policy adherence and enforcement, prioritizing leasing and administrative duties, virtual challenges, and when to lead vs. when to manage so you can up your ACM game in 2021 and beyond!
When: 8/11/21 9:00AM - 12:00 PM
Where: GCAA, Loebsack & Brownlee Education Center
Social distancing & masks required!
Who: Mindy McCorkle, Enhancement Talent Development
Mindy McCorkle has 30+ years of operations and leadership experience in restaurant operations and property management. She's held just about every role in those industries, from front-line roles to executive positions, has served on numerous boards, and countless volunteer committees. She has too many awards and accolades to list here, and she doesn't really like talking about them anyway. Mindy founded Enhancement Talent Development, LLC, in 2013 where her mission is to enhance the talent and performance of our clients' teams through exceptional learning experiences while motivating individuals to explore greater self-fulfillment, higher self-awareness, and transformational thinking.
Cost: $99 Members, $139 Non-Members
CECs: 3
Lunch sponsored by EDS - Environmental Diversified Services, Inc!