Back to Events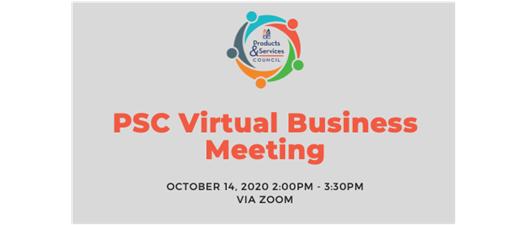 PSC Virtual Business Meeting
Wednesday, October 14, 2020
Event Details
Join us for one of the most important PSC Business Meetings of the Year!
When: October 14, 2020 2:00pm - 3:30pm
Where: Via ZOOM (video & call-in details are e-mailed post registration)
 Agenda:
Welcome/Meeting Overview
Upcoming Sponsorship Opportunities & Events
2021 PSC Secretary Candidate Speeches

Bill Clements, Valet Living
Liz Newkirk, Loebsack & Brownlee

March 25, 2021 Trade Show Booth Sales Lottery*
Private Booth Selection
Vote for 2021 PSC Secretary
Other Business/2021 Committees
---
2021 Trade Show Booth Pricing:
*** Pricing below is based on show location. [20 Double Booths | 4 Triple Booths | 4 Quad Booths are available]
$595 Regular Booths
$645 Super Booths
$695 Premium Booths
All booths are 8 x 10 in size. [Based on suggested guidelines, we have decided to cut back on the depth of the booths to allow for wider aisles to create more social distancing. The back width of the booth is 10' wide which would not affect any pop-up booths fitting in the space.]
*For Trade Show Booth Reservation Lottery: You will be automatically entered into the drawing upon your entry to the Zoom Meeting and selected randomly. Chosen winners will reserve their booths on the spot via a private breakout room.
*For Trade Show Booth Reservation Payment: Please note a deposit of $100 payable by credit card ONLY will be due at time of booth reservation. Once you select your booth, you will need to pay the $100 deposit online from your location. If you need assistance with this, we will have a separate breakout room available.
**2021 Secretary Voting Process: Immediately following your booth selection, while still in the breakout room, you will cast your anonymous vote for the 2021 PSC Secretary. There will be a PSC Representative there to collect your vote.
In accordance with the PSC bylaws, each Associate corporation, partnership, or organization with a current membership status is able to cast one (1) vote for the position of 2020 PSC Secretary.
**AGENDA AND BOOTH REGISTRATION INSTRUCTIONS WILL BE EMAILED PRIOR TO THE MEETING**