Back to Events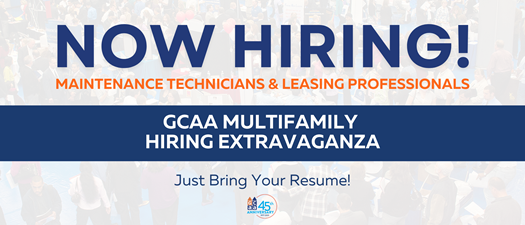 GCAA Multifamily Hiring Extravaganza 2022 - Open to the Public!
Begin a NEW career in the Multifamily Industry!
Thursday, June 9, 2022
Event Details
This event is free & open to the public!
Walk-ins are welcome.
The GCAA is hosting their 3rd Annual Hiring Extravaganza Event this June. If you, or anyone you may know, are looking for a job register now!
Begin a NEW career in the Multifamily Industry or enhance your current career
Meet the decision makers of today's top companies and get interviewed on the spot
No previous experience required
Substantial earning power