Back to Events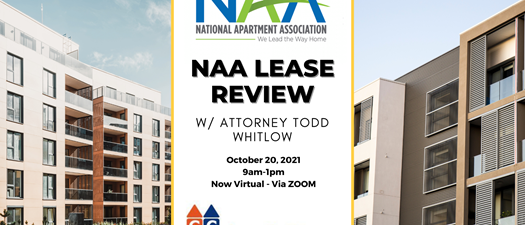 Virtual NAA Lease Review
Wednesday, October 20, 2021
* Registration open until 10/19/21 at 5:00 PM ()
Event Details
This virtual session will cover changes/updates made to the NAA Lease and Addenda specific to the laws of the State of North Carolina. In addition, we will take a deep dive into the rights and obligations provided by the NAA Lease. We will walk through several interactive hypothetical situations beginning with the application process through the end of the lease. Walk through the new NAA Lease and Addenda step-by-step with an industry lawyer!
What you will learn:
- The ins and outs of the new NAA Lease Agreement
- How to deal with common lease violations
- How the documents should be properly completed by users
- Get clarification on the most misunderstood components of the NAA Lease Agreement
- Emotional support animals and the Pet Addendum
- Recent legislative changes and updates pertinent to the NAA Lease
When: October 20, 2021
Time: 9am - 1pm
Event Cost:
$129 GCAA Members
$159 Non-Members
CECs: 4
For More Information:
3800 Arco Corporate Drive Suite 175
Charlotte, North Carolina 28273
United States
704.334.9511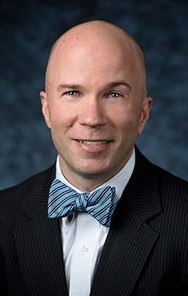 Meet the speaker!
Todd Whitlow
Todd grew up in Oxford, North Carolina where he learned the values of hard work, discipline and preparation that he continues to maintain in his legal practice. Todd attended the University of North Carolina – Chapel Hill for his undergraduate studies before attending Campbell University for law school. He has practiced in a variety of legal environments during his career, including a general practice in Oxford, North Carolina where he built and maintained his own caseload dealing with residential and commercial real estate transactions and litigation, business formation, criminal matters and general civil litigation. Todd began practicing law in Raleigh, North Carolina in January of 2004 and became a member of the Brownlee Law Firm in January 2007, where he continued to focus his practice on community association representation, landlord-tenant law, residential and commercial real estate litigation, business litigation, construction litigation, commercial collections, and contract drafting. In May 2011, Todd became licensed to practice law in the State of South Carolina and has extended his practice to clients in that state. On December 1, 2015, Todd became a partner and principal in Brownlee Whitlow & Praet, PLLC where he oversees the Community Association Law Group and the South Carolina practice, and assists with the multifamily law group. When not working Todd enjoys travel, sports, fitness, spending time with his wife and two daughters, and reading history and fiction.