Back to Events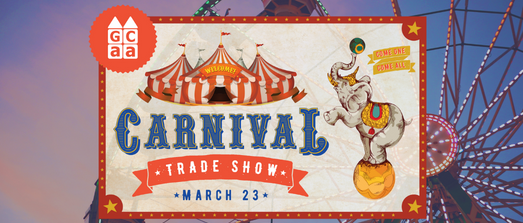 2023 GCAA "Carnival" Trade Show - EXHIBITORS
Thursday, March 23, 2023
Event Details
GCAA's 2023 Carnival Trade Show
Want to exhibit in this year's show?
Step One: Select your booth by pressing the button below.
Step Two: Pay your $100 booth deposit to secure your booth reservation.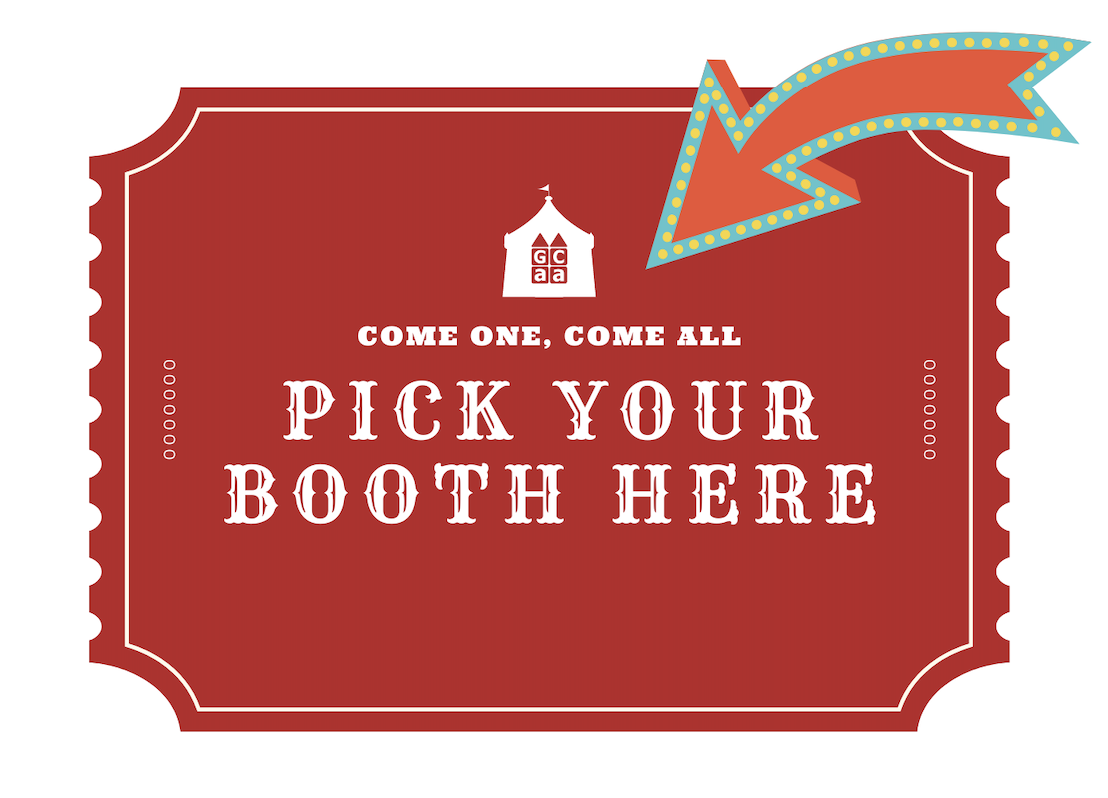 NOTE: ONLY CURRENT GCAA MEMBERS CAN PURCHASE TRADE SHOW BOOTHS.
IF YOU'RE NOT A GCAA MEMBER BUT WOULD LIKE TO PURCHASE A
BOOTH, YOU CAN BECOME A MEMBER BY CLICKING THIS LINK.
---
Event Details
Date: Thursday, March 23, 2023
Location: The Park Expo Conference Center (Liberty Hall)
---
Booth Pricing
Standard Booth |

$645

Super Booth | $690
Premium Booth | $745
Super Double Booth | $1380
Premium Double Booth | $1490
Quad Booth | $2575
---
Payment for Trade Show Booths
Upon booth selection, your $100 booth deposit must be paid through the GCAA website. All final booth payments are due on January 31, 2023. Booth requests made after 5pm on January 31st, require immediate payment in full to secure the reservation. If payment is not received, the GCAA reserves the right to cancel your trade show booth request.
Following your booth reservation, GCAA will email you the following documents.
---
Booth Cancellations
Cancellations made after January 31st, will be responsible for 50% of the total booth fee. Booth reservations canceled after March 2nd will be responsible for the full booth fee.
---
Event Agenda:
Show Date: March 23, 2023
8:00 AM - 2:00 PM

Exhibitor Set-UpAccess to loading docks will begin at 8:00 am. The loading dock will close at 2:00 pm. All booths need to be completely set-up by 3:00. If you anticipate a longer set-up time for your booth, please plan to arrive early.

3:30 PM - 8:00 PM
Show Hours
8:00 PM - 11:30 PM

Exhibitor Break-Down

All exhibitors must be out of the Park Expo space by 11:30 pm. All Exhibitors must stay for the entire duration of the event and cannot break down before end of show.
Trade Show Sponsorships Available Now!
Silver Featured Exhibitor $150
Those who reserve a Silver Featured Exhibitor Sponsorship will receive the following benefits:




Logo displayed on the Trade Show Attendee Registration Page

Spotlight Social Media Posts

List of Attendees in Excel Format
Gold Featured Exhibitor $200
Those who reserve a Gold Featured Exhibitor Sponsorship will receive the following benefits:




Logo displayed on the Trade Show Attendee Registration Page
Booth location highlighted on exhibit hall floorplan
Logo on Trade Show email communication
Spotlight Social Media Posts
List of Attendees in Excel Format
FB Live Prize Drawing at GCAA Office
Platinum Featured Exhibitor $250
Those who reserve a Platinum Featured Exhibitor Sponsorship will receive the following benefits:




Logo displayed on the Trade Show Attendee Registration Page
Booth location highlighted on exhibit hall floorplan
Segment on Morning Perks Podcast
Logo on Trade Show email communication
Spotlight Social Media Posts
List of Attendees in Excel Format
FB Live Prize Drawing at GCAA Office or Live at the End of the Show
Step & Repeat Sponsor $600
Sign up to sponsor the incredible Step & Repeat that will span the 2023 Trade Show space. This sponsorship is perfect if you're looking to have your company's logo shine. The Step & Repeat will serve as the prime spot for photo opts throughout the entire event. The sponsor will receive the following benefits:

Company name/logo to be prominently printed on Step & Repeat
Company Logo on Trade Show marketing materials
Bag Sponsor $200 (Limited Spots Available)
Those who reserve a Trade Show Bag Sponsorship will receive the following benefits:

Logo printed on Trade Show bags given to attendees at the show
360 Photo Booth Sponsor (SOLD OUT)
Those who reserve the 360 Photo Booth Sponsorship will receive the following benefits:

Logo on all photo booth pictures

Logo printed on allocated event signage

Logo printed on Trade Show marketing materials
VIP Lounge Sponsor $550
Those who reserve a VIP Lounge Sponsorship will receive the following benefits:

Signage for your booth showcasing you as a VIP sponsor

Admittance to the VIP 'lounge' area for networking with the VIP attendees and other key decision makers

Opportunity to place VIP "swag" within the VIP lounge area

Company logo on event invitations showcasing the show's VIP hour

Company logo on floorplan

Signage throughout facility