Back to Events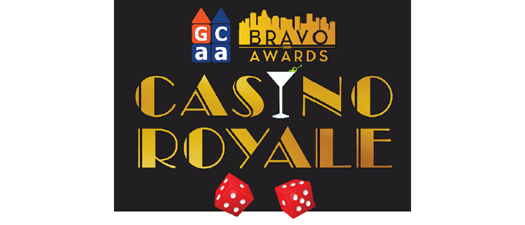 2020 Bravo Awards: Casino Royale
Thursday, December 10, 2020
Event Details
LIVE TUNING IN DETAILS

OR VIA FACEBOOK LIVE @THEGCAA
---
Nominate, Celebrate and Appreciate!
NOMINATIONS ARE NOW CLOSED!!
---
Join the GCAA to celebrate the accomplishments of our members and present awards to the most deserving individuals on our most elegant night of the year!
This year's event will be like nothing we have seen before! Register for FREE to watch our Live Stream Awards Show & Celebrate those who have excelled in 2020!!
The theme for this year's Bravo Awards is Casino Royale!
---
When: December 10; 3:30-5pm
Where: Virtual! Links & Information to follow.
Virtual Watch Parties
Get involved & Sign-up to host your own Watch Party!
Host @ your property or office and invite the whole team to PARTY.
Each registered Watch Party will receive our "Bravo Gift Box" including Champagne & lots of fun props to help you celebrate! You can take photos and share them with us via our Social Media Hashtag, which will be provided closer to the event date.
Social Media Hashtags:
#Bravo2020 - use this hashtag for all things bravo awards!
#BravoWatchParty - use this hashtag to show us your watch party, your interpretation of "casino royale" and how you're celebrating!
#BravoBestDressed - use this hashtag to show us your best casino royale outfit! Formal attire is encouraged!
Production Sponsor:

LIMITED SPONSORSHIPS AVAILABLE (ONLY 6 PRESENTING SPONSORSHIPS REMAINING)
Click HERE to view Sponsorship Opportunities!
If you are any questions, please email Ashley Honeycutt at ashley@greatercaa.org. Sponsorships are nonrefundable.