Back to Events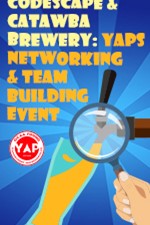 Codescape & Catawba Brewery: YAPs Networking & Team Building Event
Thursday, January 24, 2019
Event Details
Investigate, Solve, Interact & Achieve!!!
Codescape features live-action escape room games where you can race to recover a relic, investigate paranormal activity, or search for alien life...However, your group has only sixty minutes to explore the space around you, find items and use logic to solve puzzles, uncover secret doorways, overcome obstacles and reach your goal. Register today and go on an escape room adventure with the GCAA YAPs Committee. Afterward, let's all go have a beer together at Catawba Brewery next door!
When: This is a 2 part event Codescape from 6-7 & Catawba Brewery from 7-9 PM

Cost: $35.00 (price is for escape room only)

GCAA members only; limited attendance. Deadline to register/cancel is Noon on 1/24/19.